Non-negotiable: The Humanitarian Must-haves on 16 June 2023
This event will discuss actions to be taken to prevent or alleviate, without discrimination, the human suffering arising from disaster or conflict. What actions are necessary to strengthen the humanitarian principles and to ensure that the Humanitarian Imperative is respected as a universal standard.
Date: Friday, 16 June 2023
Time: 09:00 – 18:00
Location: University of Vienna, Main Ceremonial Hall
Panel topics (draft programme):
Panel 1: The Humanitarian Imperative Is Non-Negotiable
Panel 2: When Nature Strikes Back – Humanitarian Aid In Times Of Climate Change
Panel 3: Forgotten Crises – Forgotten Suffering
Panel 4: Starvation As A Method Of Warfare – As Old As War Itself, Outlawed But Deadly Popular and Creatively Used
More information and registration details will be available shortly on this event page. Please note that the congress language is English.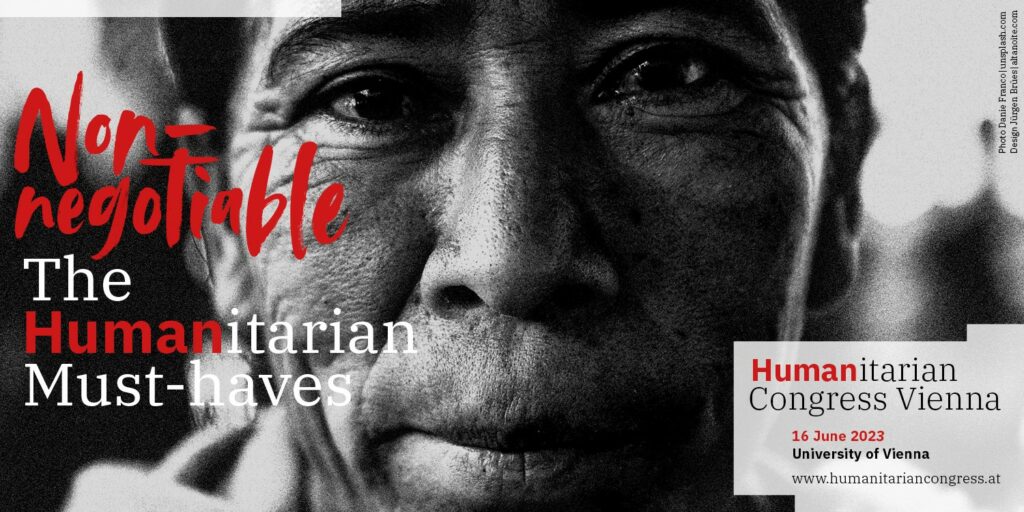 Afghanistan – Ein Kampf ums Überleben

Erst kommen die kleinen Beine des Babys durch die Schlaufen, dann die Arme. Die CARE-Krankenpflegerin überprüft, ob das Baby sicher im Gurt hängt, dann hängt sie den Gurt mit dem Jungen an den Haken der Waage. Er baumelt hin und her während sie abliest, wie…

continue

Diakonie Katastrophenhilfe – im Einsatz für Menschen in Not

Die letzten 14 Monate waren für die Humanitäre Hilfe generell – und so auch für die Diakonie Katastrophenhilfe und ihre Partner:innen – sehr herausfordernd. Dennoch zeigt uns die Ukraine Krise seit über einem Jahr sehr deutlich, dass die österreichischen zivilen Organisationen Unglaubliches auf die Beine…

continue