Online-Registration for the Humanitarian Congress Vienna Non-Negotiable: The Humanitarian Must-Haves closes on 12 June.
Register online by 12 June for the opportunity to attend the 6th Humanitarian Congress at the University of Vienna. This event will discuss actions to be taken to prevent or alleviate, without discrimination, the human suffering arising from disaster or conflict. What actions are necessary to strengthen the humanitarian principles and to ensure that the Humanitarian Imperative is respected as a universal standard.
Date: Friday, 16 June 2023
Time: 09:00 – 18:00
Location: University of Vienna, Main Ceremonial Hall
Panel topics :
Panel 1: The Humanitarian Imperative is Non-Negotiable
Panel 2: When Nature Strikes Back – Humanitarian Aid in Times of Climate Change
Panel 3: Forgotten Crises – Forgotten Suffering
Panel 4: Starvation as a Method of Warfare – As Old as War Itself, Outlawed but Deadly Popular and Creatively Used
Join our renowned speakers for exciting discussions.
More information and registration details are available under Programme and Registration on this event page. Please note that the congress language is English.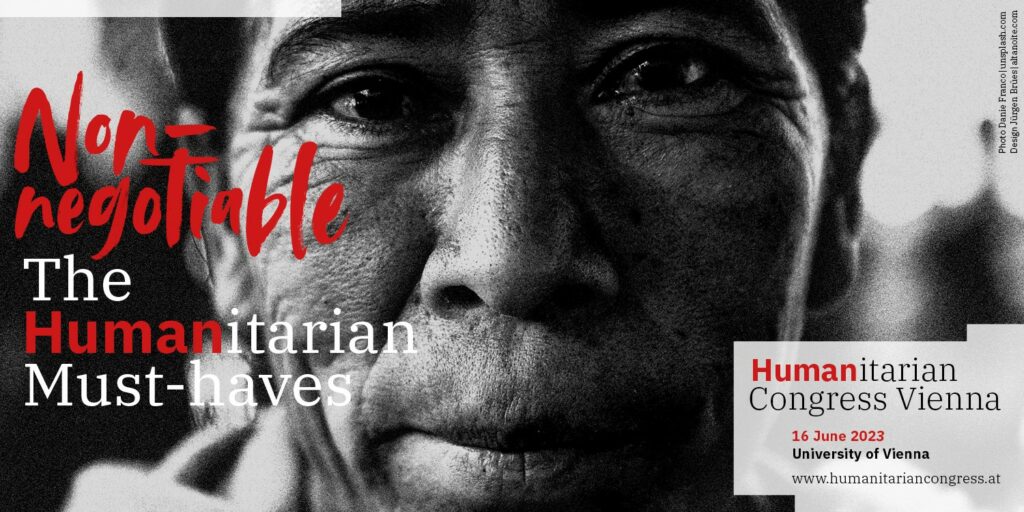 Bundespräsident Alexander Van der Bellen – Ehrenschutz für den Humanitären Kongress Wien

Es freut uns mitteilen zu können, dass Bundespräsident Alexander Van der Bellen auch in diesem Jahr den Ehrenschutz für den Humanitären Kongress Wien übernommen hat. Wir verstehen diese Zusage nicht nur als Fortsetzung einer Tradition, sondern auch als Würdigung des Engagements, dass die Organisationen der…

continue

In laughter, there is hope

Having been with RED NOSES for 17 years, it's incredibly challenging to pinpoint one singular event as the most moving in terms of my humanitarian work. Our Emergency Smile (ES) programme is now in it's tenth year and focuses on sharing humour and moments of…

continue