Humanitarianism in the network age including world humanitarian data & trends 2012
Here is a good overview about network age impact on humanitarian Aid. A report related to our panel discussion: What's App: Innovation and New Technologies Improving the Effectiveness of Humanitarian Action – Myth or Fact?
It focuses on organizations that are embracing changes due to technology improvment and reorienting their approaches around the essential objective of helping people to help themselves. It highlights their experiments and efforts to adapt, and the sometimes remarkable results.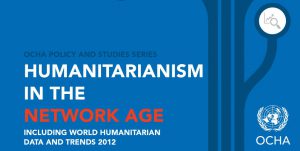 Table of content

Chapter I: The network age

The Increased Reach of Communications
New partnerships for humanitarian action
The need for change
Chapter 2: Humanitarian information in the network age
The opportunity: Data in the network age
Big data
Rich data through Geographical Information Systems
Open data
New techniques for the network age
Crowdsourcing
Crowdseeding
Mobile cash
Challenges and risks
Accuracy and utility
Bias
Power
Information overload
Increased expectations
Privacy, ethics and security
The need to adapt
Chapter 3: Adaptation and change
Adapting to new data sources, tools and techniques
Ethical issues around new sources of information
Adapting to new partnerships and techniques in humanitarian action
Participatory mapping for preparedness and risk reduction
Community early warning systems
Standards as a basis for communications
Information as a basic need in humanitarian response
A holistic approach
See the document: Humanitarianism in the network age