Humanitarian crises cumulate and reinforce each other. For example, people in the Horn of Africa are facing the threat of starvation following four consecutive failed rainy seasons in parts of Ethiopia, Kenya and Somalia, a climate pattern not seen in at least 40 years. In this region alone at least 20.5 million people already face acute food insecurity. Drought, hunger, spiking food prices, and water shortage force families to take the desperate measure of leaving home in search for food, increasing the risk of inter-communal conflict. Since January 2021, over 800,000 people in Somalia have been displaced. At the same time many drought-affected regions cope with the cumulative consequences of other shocks, including conflict, COVID-19 and other natural disasters. 
Conflict, climate crises, COVID-19, poverty, 828 million hungry people worldwide in 2022* and an expected 1 billion in the near future**- as a global society, it is a humanitarian imperative to assist whenever and wherever disaster and conflict strikes. It obliges us to leave no one behind, to not prioritize one crisis, one vulnerable person over the other.
Tragically, we are far from complying. Humanitarian actors end up having to prioritize and to minimize misery to the extent possible within the available resources.
These realities show us the overwhelming challenges humanitarian organizations and actors in the field are facing and will face even more strongly in the days and years to come. Overlapping crises mean multiple needs. Multiple needs require predictable funding.
The member organisations of Global Responsibility – Platform for Development and Humanitarian Aid calculated the effect of one million Euros in humanitarian aid:
it can provide food for 10,000 people in need or,
provide 8,500 families with emergency aid packages (e.g., hygiene items, blankets, cooking utensils) or,
can provide medical care for 21,000 people – including eye care.
Given the extent of misery, many billions are needed on the global scale, of course. A ray of hope is the fact that Austria in 2021 nearly doubled its funding for humanitarian aid. Yet, Austria is still spending just a fraction per capita compared with for example Sweden and Denmark.***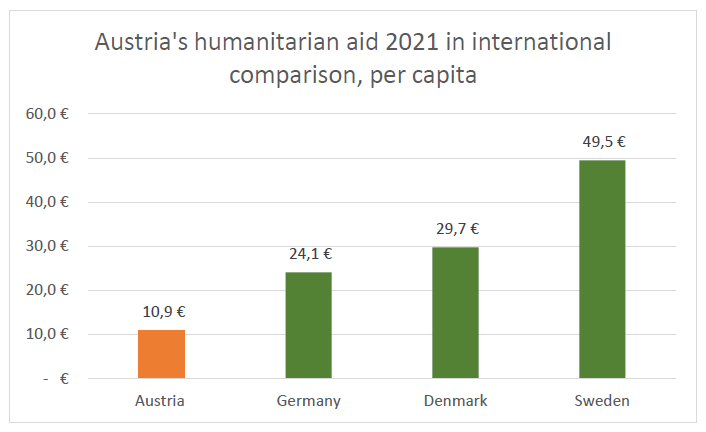 In a rapidly changing world we, humanitarian actors and policy makers, must collectively make sure that the world will comply with the humanitarian imperative in the future. That initiatives are taken in various forms, ranging from short-term agreements to long-term financial initiatives to strengthen humanitarian aid. That is owed to the stricken but is, in fact, also in the self-interest of the prosperous. Late assistance is much more expensive than humanitarian aid that is prompt.
There is much to do, let us jointly progress at pace!
Author: for the team of Global Responsibility – Platform for Development and Humanitarian Aid Monika Stumpf-Hulsrøj, project manager, Humanitarian Congress Vienna 2023
*Food and Agricultural Organization of the UN, The State of Food Security and Nutrition in the World 2022 report, https://www.fao.org/publications/sofi/2022/en/
** Dr. Martin Frick, Director of the WFP Office for Germany, Austria and Liechtenstein, "Heute hungert eine Milliarde Menschen",Kurier, 27.11.2022, https://kurier.at/politik/ausland/heute-hungert-eine-milliarde-menschen/402239247
*** ref. "Faktencheck: Hintergrundinformationen zu Österreichs Hilfe vor Ort", 07.09.2022, https://www.globaleverantwortung.at/faktencheck-oesterreichs-hilfe-vor-ort/