State of Affairs in Austria
All Austrian stakeholders agree that humanitarian aid is an expression of solidarity with people in need. However, there is no sustainable strategy laying out how Austria in tends to address the humanitarian challenges the world is facing. There are multiple reasons for this. The "OECD Development Co-operation Peer-Review Austria" for example does address critically the following points: policy incoherence, lack of prioritisation and non-transparent reporting systems (see http://www.oecd.org/dac/peer-reviews/peer-review-austria.htm).
Ways to Strengthen the Significance and Impact of Austria's Humanitarian Aid
In order to establish an Austrian Humanitarian Aid system of top quality and quantity the following steps are indispensable:
The development of a strategic approach with clear priorities, objectives and responsibilities.
In this regard, the essential point is a clear strategic allocation of the Austrian Disaster Relief Fund (AKF) taking into consideration the major categories of humanitarian aid:
Sudden onset disasters (eg.: earthquake in Nepal),
Protracted and forgotten crises (eg: Syria, Iraq, Yemen, Libya): as these crises are long-term (protracted crises), emittances/allocations can be planned and a share of the AKF can be earmarked
Austrian Development Corporation (ADC) priority countries that focus on disaster risk reduction (DRR) and slow onset disasters (eg. Ethiopia).
Maintaining the principles approved for humanitarian aid a concept needs to be developed to link disaster preparedness, relief, rehabilitation and development cooperation.
The allocation of ownership
This refers to the long standing request to establish an Austrian governmental focal point which is responsible for the planning, implementation and quality assurance of Austria´s humanitarian aid co-operations. As the accountable operating decision maker, this institution would be equipped with a separate budget responsibility. The entire decision making process, the co-ordination and the allocation of funds of the Austrian humanitarian aid policy should be administered by this body. This would improve the effectiveness of the decisions making process and guarantee quicker and more flexible responses in order to progress in the achievement of humanitarian aid objectives.
The assurance of transparency
Austria wants to be transparent about the administration of it´s humanitarian aid policy as well as about the related co-operations (nationally and internationally). Stakeholders, tax payers and beneficiaries have a right to an insight into Austria´s work. Improving the quality and quantity of dialogues and establishing structures that enable stakeholders to immediately hear input signals can help to improve priorities and their overall acceptance. This can ultimately lead to better results of Austria´s humanitarian aid co-operations.
A predictable and adequate financing
A substantial humanitarian aid policy needs financial security and reliable financial forecasts. The Austian government recognized this need by pledge at the World Humanitarian Summit. In 2017 the overall buget for humanitarian aid and assistance, which included the 20 million Austrian Disaster Relief Fund (AKF) budget, was 51.6 million EUR. In 2018 the AKF spent 20 million EUR and for 2019 the AKF is budgeted to provide 15 million EUR.
The coordination of policies and action plans of all stakeholders concerned
Humanitarian Aid co-operations alone can not fulfil commitments, objectives or strategic action plans. Various policy choices in other policy areas also have a great impact on Austrian humanitarian aid co- operations. An overall strategic, structured and focused approach on humanitarian aid policy would make all stakeholders involved pull in one direction and make effective use of possible synergies.
Call for Sustainable Strategies and for Holistic Actions
In the view of the findings of the World Humanitarian Congress in Istanbul and taking into consideration the international commitments in the framework of the United Nations and the European Union, Austria's engagement in humanitarian aid is far behind compared with other European countries. The critical question remains: how can this policy meet the World Humanitarian Congress's request to "shift from funding to financing" in the future?
The significance of this request emerges in the international comparison as shown below: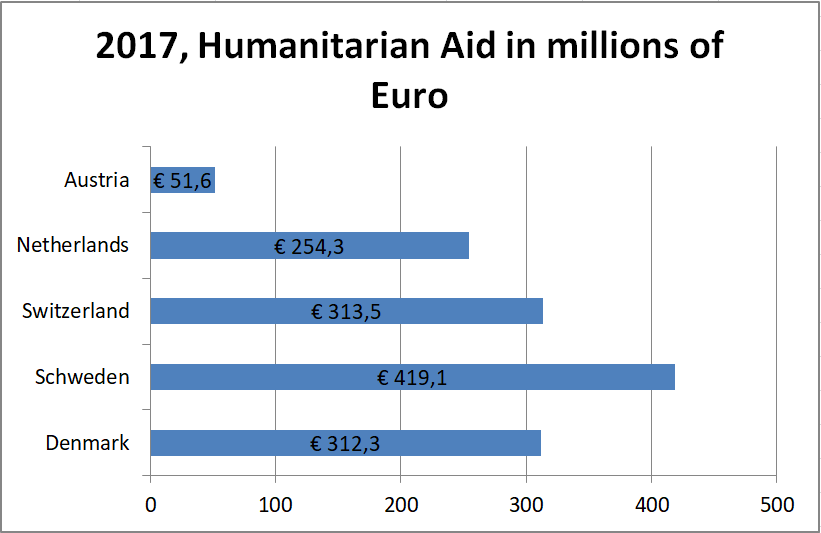 Sources: OECD Dac Statistics, http://stats.oecd.org/Index.aspx?QueryId=63165
Many Austrian Governmental Actors, But No Ownership
As of now, there are seven different Austrian ministries engaged in development cooperation. The resulting fragmentation of humanitarian aid concerning decision-making, political responsibility and organisational structures brings unnecessary complication. Although several Austrian ministries – and also provincial governments – are involved, none of these actors has the formal mandate to coordinate and steer humanitarian policy and action. This leads to a lack of coordination and coherence of official humanitarian aid, fosters bureaucratic opacity and is ultimately culminating in the fact that, for example, the allocation of funds from the Foreign Disaster Relief Fund depends on the decision of the Austrian Council of Ministers.
A coordination platform, chaired by both BMEIA and Global Responsibility, has been established in order to facilitate regular exchange of information between the Austrian state and non-state actors in the field of humanitarian aid. The Austrian Foreign Ministry (BMEIA), the Federal Ministry of the Interior (BMI), the Federal Ministry of Agriculture, Forestry, Environment and Water Management (BMLFUW), the Ministry of Defence and Sports (BMLVS) and humanitarian organisations (which is chaired by both the BMEIA and Global Responsibility) are all members of this platforms. Even with this positive measure, the formal authority of the platform as well as the absence of sustainable strategies and related to action frameworks are lacking.
Despite the government's good will, the current set-up means that there is no ownership defined which would create the foundation for effective humanitarian aid co-operations. Consequently, the lack of transparent ownership impedes the establishment of sustainable collective actions and the implementation of constructive emergency plans.
An effective Austrian Humanitarian Aid strategy needs to aim to combat human distress and to promote human rights. Humanitarian Aid policy must be dynamic in its management to ensure that efforts are focused on where the needs are greatest and the best difference can be made.
Let us keep in mind that the commitment to humanitarian aid and assistance is not an act of charity. Humanitarian assistance was, is and will be a human right!
Read more about Austria and the World Humanitarian Summit İstanbul